Water Health
Command the microbiological processes affecting your water quality to turn that stinky green swamp back into a beautiful, refreshing water source, Naturally, with Water Health Sciences.
VIEW PRODUCTS
Program Overview
Applications
Lakes and ponds
Fountains and water features
Greenhouse retention ponds
Golf course water hazards
What the (enter adjective) is that smell?
Where there are excess nutrients, there will be something to consume them. If oxygen is low, algae win. When it's sufficient, bacteria win. However, when the game is over (i.e., they consume all the nutrients), bacteria die and sink to the bottom.
So Where are nutrients coming from?
Leaves, birds, insects (if you have a muddy bottom), excess nutrient runoff from the surrounding vegetation,  even dust in the wind, all contribute to the distribution of nutrients.
What to Expect
Do you have enough dissolved oxygen and nutrients for your volume of water?
To maintain balance in shallow manufactured lakes and ponds, we need to bring up oxygen levels and resupply the beneficial bacterial communities to the surface of the water column, especially if we want to have fish in them.
Your power will come from having the tools to balance the nitrogen, phosphorus, and dissolved oxygen with the right kind of biological communities that will:
stimulate aerobic activity within the water
outcompete algae for nutrients
reduce sediment buildup
By maintaining the right balance of these components, you will favour the champions of the water column and never see that icky green slime again.
Our program is easy to implement and compatible with your existing systems. Here's how it works:
Review your water tests and ecological factors
Program design and modification.
Easy as 1-2-3 implementation with minimal training. (cup of this, splash of that! )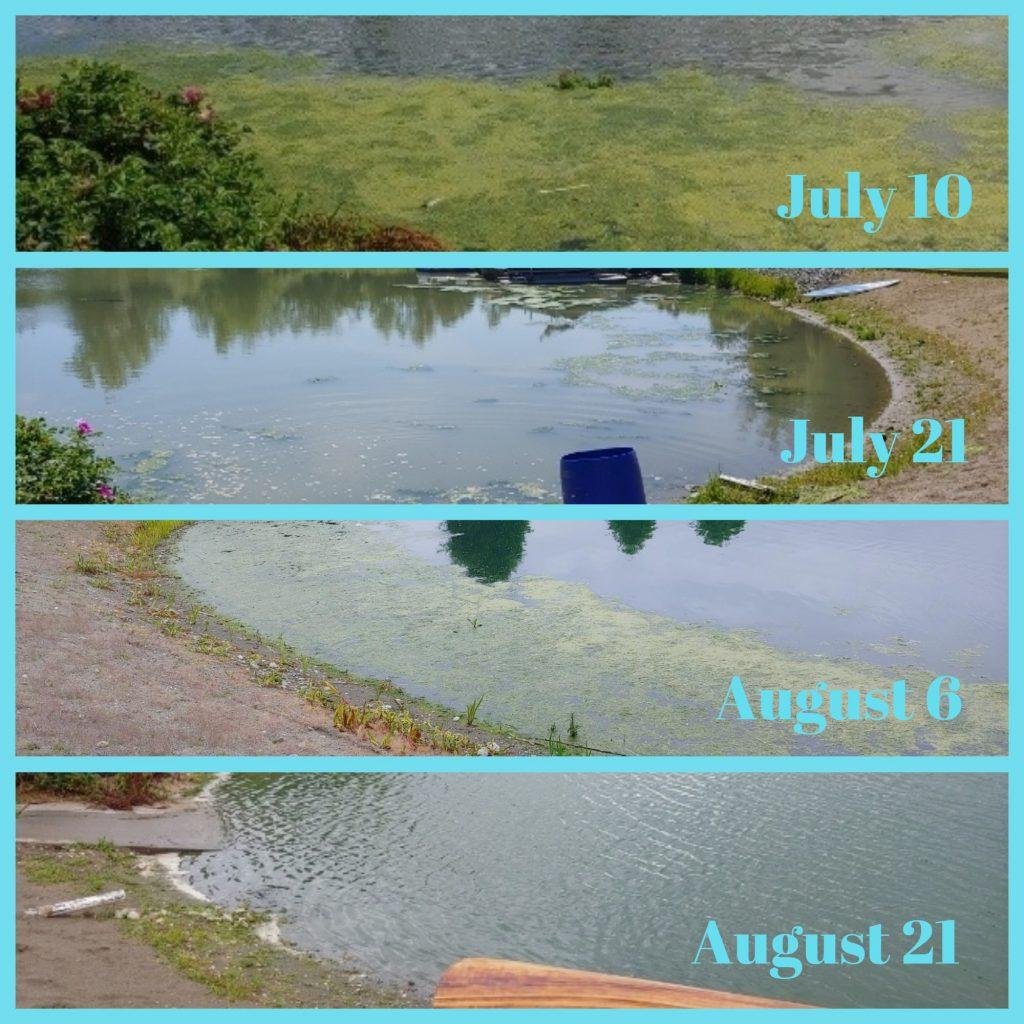 Results
Being the maintenance manager of the strata complex, I was worried that cleaning the pond too much would subject our fish to predation from birds and raccoons. After using the CleanFlo WC product from Eco Health I was right! After one application our 11,000 Litre pond went from peas soup to crystal clear! I had to back off to less than half rate to give our fish some cover. The product has given me control over the pond so I can give the fish some cover without clogging the filters all the time. Fantastic product.

Trevor Adams, Solay Strata Complex
<42 Days
Total control over your waterway