Description
The presence of silica[Si] in plants, like that found in Geisha foliar, has been found to alleviate many abiotic and biotic stresses, create physical barriers to penetration, and reduce the susceptibility to enzymatic degradation by fungal pathogens. In addition, Si enhances the activities of chitinases, peroxidases, polyphenol oxidases, and flavonoid phytoalexins. AKA, Plant defence mechanisms.
When preparing for the transition into the reproductive stage, it's essential to ensure we provide the highest level of plant health for the coming weeks of development. Foliar feeding with Geisha biostimulant optimizes leaf area for maximum photosynthesis and gas exchange.
HOMOGENOUS FORMULATION
The delivery of nutrients as an Ultra Small homogenous package boosts photosynthetic efficiency, increasing glucose production (Brix) and ATP cell energy. Increasing Brix and ATP levels accelerate carbon dioxide (CO2) absorption and overall natural plant functions.
NANO-SIZED PARTICLES
How Small is Ultra Small? 1 inch = 25 Millimetres (mm), 1mm = 1000 Micrometres (microns), 1 micron = 1000 Nanometers. SinC's homogeneous particles range in size from 10 – 20 Nanometers.
SILICA CARRIER BENEFITS
Silica strengthens plant cell walls, adding another layer of protection against attack. In addition, it improves plant resilience to environmental stress and helps regulate uptake of water and nutrients.
What Is It And How Does It Work?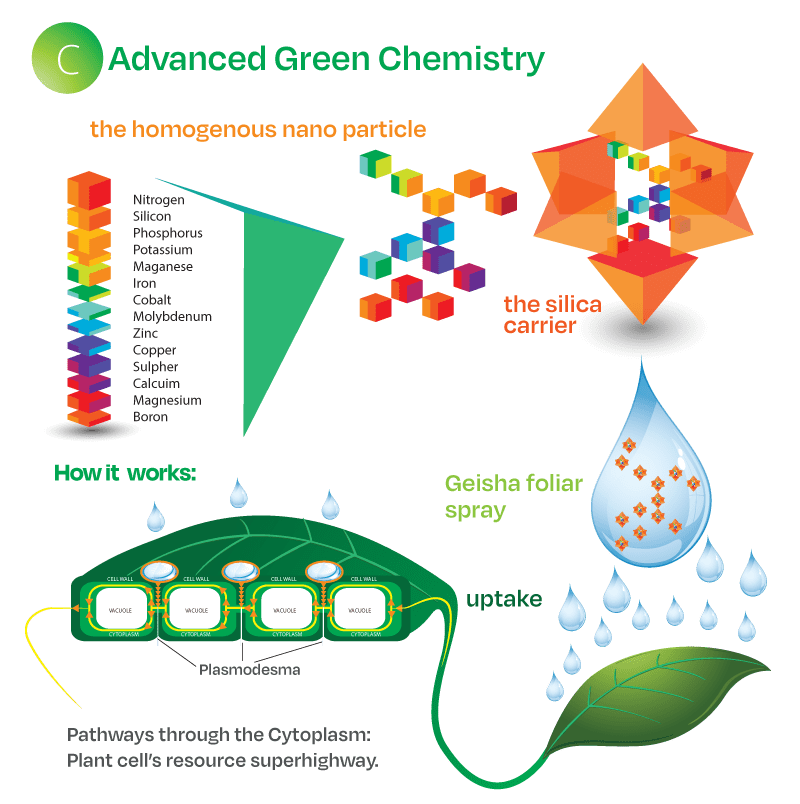 When sprayed onto the leaves of cannabis plants, Geisha's homogenous nutrient nanoparticles enter the plant through the cracks and crevices between leaf cells called plasmodesmata. The goal is to reach the cell communication pathway, known as the cytoplasm, with the complete mineral requirements plants need to perform essential plant functions, such as cell division (AKA growth), immune defence responses, and reproductive development.
It's important to note that the deeper into the plasmodesma on the way to the cytoplasm, the stronger the negative ionic charge. Conventional foliar products composed of only one chelated mineral struggle to achieve efficient nutrient availability due to polar charges, and this is why the best foliar products carry a neutral charge. Geisha's homogenous nanoparticles are comparable in size and charge to the best-chelated mineral molecules. Still, the homogenous composition of 14 minerals provides unmatched mineral bio-availability for use in plant functions.
What It Does: Facilitates The Carbon Cycle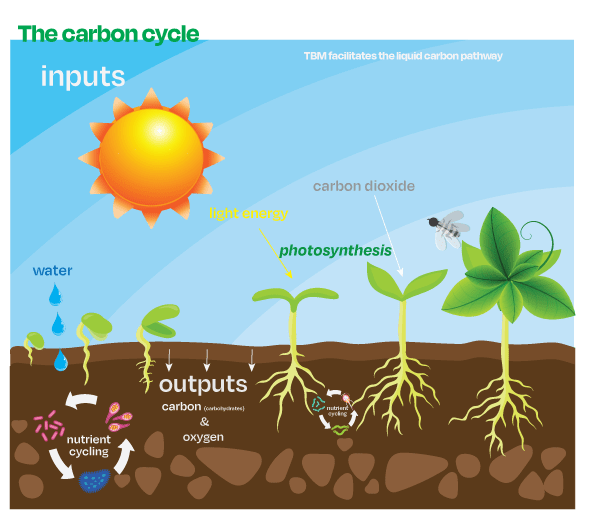 GLUCOSE ROOT EXUDATES FEED BENEFICIAL SOIL BIOLOGY
As they grow, beneficial soil microorganisms perform a process referred to as Bio Mining. Microorganisms affixed on insoluble nutrient minerals in the soil break the chemical bonds through enzyme secretion and release individual nutrients to the plant in an ionic form.
SINC FOLIAR BIOSTIMULANT INCREASES FOLIAR GLUCOSE LEVELS (BRIX COUNT)
Once plant Brix counts get over 12, plants are highly resistant to insects and pathogens. In addition, plants treated with Geisha foliar biostimulant become more vigorous, increase their Brix count, absorb more carbon dioxide from the atmosphere, and facilitate a liquid carbon pathway that oozes carbohydrates through their roots into the soil matrix.