Description
Micro Elements
Most micronutrients in plants are involved in enzymatic reactions like photosynthesis and respiration. We need micronutrients in minimal amounts. The essential micronutrients are iron [Fe], manganese [Mn], boron [B], chlorine [Cl], copper [Cu], zinc [Zn], molybdenum [Mo], nickel [Ni] , cobalt [Co], vanadium [V], sodium [Na], and silicon [Si]. Deficiencies of the last four minerals are very rare.
Soil chemistry wreaks havoc on nutrient availability. For example, we need iron in relatively large amounts, but it is the most difficult to make available because soil chemical processes sometimes quickly make it unavailable. Low soil pH can cause excessive amounts of micronutrients to become available in solution causing toxic effects. Too high a soil pH can make them unavailable for plant needs. Providing these nutrients in chelated form is essential. However, not all chelates are equal.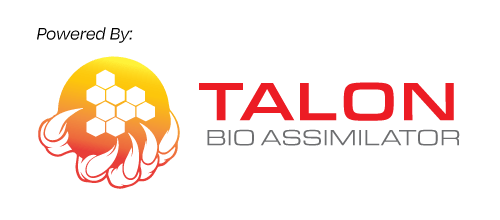 Talon Bioassimilator
Talon Bioassimilator, one hundred percent plant-derived, chelating (KEY-late) technology provides industry-leading chelation strength and bioavailability. The quadruple point chemical bond properties of Talon are fully metabolized by plants, requiring less energy to use over convention chelates and complexes. With Talon Technology, plants spend less energy converting applied raw nutrients into usable forms. In turn, Talon allows plants to spend more energy developing fruits and tissues rather than converting applied nutrients into usable forms before they can be used for plant growth and development.
Talon Compared to Traditional Chelates
100% plant-derived
Multiple points of chelation (4 vs 2 with Glycine) = stronger bonds, less reaction with other chemicals in soil solution.
Dual Action – Biochelation and Biostimulation
Wide pH plant availability – pH 3 to pH 10
High solubility

Low environmental impact
Aminoacid Chelates
Mainly glycine

Weak Complex by comparison

Mostly Iron products are available
Synthetic Chelates (EDTA, DTPA, EDDHA)
Single-mode of action

Low degree of biodegradability

Risk of mobilization of heavy metals- Flushing

much larger molecules