Description
Trichoblast Plant Growth Promoter
Amino acid peptides are organic compounds that constitute the fundamentals of every biological molecule. They can modulate critical physiological functions in plants by binding to the cell receptors that regulate specific metabolic processes. The uptake of amino acids by plants is more advantageous energetically when compared to the absorption of NO3-, NH4+, or biological fixation because the plant does not need the energy to assimilate the absorbed nitrogen and later incorporate it into amino acids. (Jones and Kielland, 2002)
Amino acids can play different roles in plants, such as stress-reducing agents, nitrogen sources, and hormone precursors. (Zhao, 2010; Maeda and Dudareva, 2012) Another important fact is the role of amino acids as a signalling factor of different physiological processes in plants. When activated by amino acids, these receptors can trigger a series of physiological processes such as the regulation of nitrogen uptake (Miller et al., 2007), root development (Walch-Liu and Forde, 2007; Weiland et al., 2015), and antioxidant metabolism. (Hildebrandt et al., 2015; Weiland et al., 2015) The better root growth favoured by the addition of amino acids can enhance the biological nitrogen fixation, which leads to greater production of ureides. (Teixeira WF et al., 2018)
Supplying amino acids in peptide form preserves their stability and prolongs their effect on plant functions. Trichoblast also contains patented organic acid chemistry based on pseudomonas bacteria products proven to enhance root elongation (atrichoblast cells) and fine root hair development (trichoblast cells).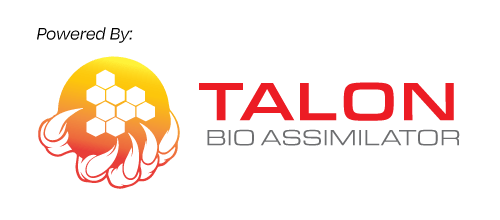 Talon Bioassimilator
Talon Bioassimilator, one hundred percent plant-derived, chelating (KEY-late) technology provides industry-leading chelation strength and bioavailability. The quadruple point chemical bond properties of Talon are fully metabolized by plants, requiring less energy to use over convention chelates and complexes. With Talon Technology, plants spend less energy converting applied raw nutrients into usable forms. In turn, Talon allows plants to spend more energy developing fruits and tissues rather than converting applied nutrients into usable forms before they can be used for plant growth and development.
Talon Compared to Traditional Chelates
100% plant-derived
Multiple points of chelation (4 vs 2 with Glycine) = stronger bonds, less reaction with other chemicals in soil solution.
Dual Action – Biochelation and Biostimulation
Wide pH plant availability – pH 3 to pH 10
High solubility

Low environmental impact
Aminoacid Chelates
Mainly glycine

Weak Complex by comparison

Mostly Iron products are available
Synthetic Chelates (EDTA, DTPA, EDDHA)
Single-mode of action

Low degree of biodegradability

Risk of mobilization of heavy metals- Flushing

much larger molecules